The European Court of Justice (ECJ) has ruled that ride-hailing app Uber is a 'transport company' rather than a 'digital service'.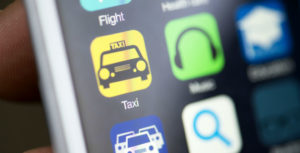 Uber has long been at the centre of a debate over whether or not they should be forced to follow local authority licensing rules, with Uber arguing the company is simply an "information society service" – connecting drivers and passengers electronically – rather than a cab firm.
Why was action taken against Uber?
The case arose after Uber was told to obey local taxi rules in Barcelona. A group called Elite Taxi asked a court in the city to impose penalties on Uber's operations in 2014, and the case was eventually escalated.
But the landmark ruling from Luxemburg that Uber is in fact a transportation company, directly involved in carrying passengers, will have implications on how the firm is regulated – as well as the growing 'gig economy'.
What happens next?
In its ruling, the ECJ said Uber "must be regarded as being inherently linked to a transport service and, accordingly, must be classified as 'a service in the field of transport' within the meaning of EU law".
"It is for the member states to regulate the conditions under which such services are to be provided".
Rules which can now be imposed on Uber include limitations to prevent unfair competition with other taxi service providers.
The case raises questions over whether Uber provides the entire service, including offline parts such as the driving itself. At present, Uber's drivers are considered self-employed – a contentious issue amongst drivers who are denied certain workers' rights. For Uber to be considered an "information society service", the drivers would need to be "economically independent" of the service.
How has Uber reacted?
In response to the ruling, Uber said: "This ruling will not change things in most EU countries, where we already operate under transportation law. However, millions of Europeans are still prevented from using apps like ours."
U.S. firm Uber is referring to a string of clashes with European regulators since it launched in Europe in 2012. In London it lost a court appeal which said its drivers must pass a strict English language test, a court in Rome is trying to suspend the app and Uber has shut down completely in Denmark after rule changes.
Uber's statement continues, "As our new CEO has said, it is appropriate to regulate services such as Uber and so we will continue the dialogue with cities across Europe. This is the approach we'll take to ensure everyone can get a reliable ride at the tap of a button".
Make sure you're covered for whatever the future holds, from cyber to car insurance. Call us today on 0113 2500377.